Interface-dominated topological transport in thermoelectric Bi2Te3
Begin:
End:
Location: Hörsaalgebäude II, Hörsaal 2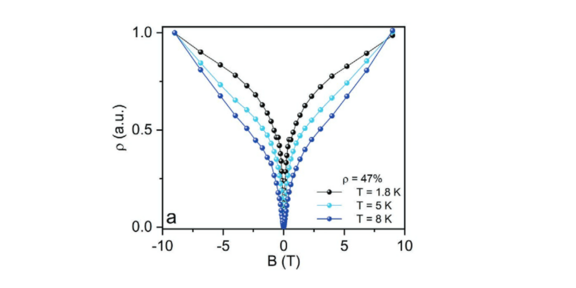 Prof. Dr. Gabi Schierning
Interface-dominated topological transport in thermoelectric Bi2Te3
Bismuth telluride, Bi2Te3, is an excellent thermoelectric material and also belongs to the class of three-dimensional topological insulators (3D TIs). In 3D TIs, the availability of protected surface states may contribute charge carriers with extremely high mobility. But usually, transport measurements in Bi2Te3 bulk samples do not show any signatures of high-mobility charge carriers. In nanoparticulate samples, provided that the nanoparticles used have sufficient surface purity, the situation can be different. Compacted nanoparticulate samples exhibit a high density of free surfaces, interfaces and two-dimensional defects. These samples show a pronounced weak anti-localization in the low temperature transport behavior as well as a kink in the electrical resistance at about 5 K, indication of strong spin-orbit coupling and high-mobility charge carriers. Evaluation of the magnetotransport data using the Hikami-Larkin-Nagaoka model yields coherence lengths of up to 200 nm, which would be significantly larger than the average grain size in the studied samples. Using terahertz spectroscopy, the contribution of high-mobility charge carriers in the system can be proven. The average mobility of these charge carriers is in the order between 1000 to 10000 cm2V-1s-1 at room temperature. Going back to the motivation of Bi2Te3 as a traditional thermoelectric material, this means that good thermoelectric properties of nanoparticulate Bi2Te3 near room temperature are also determined by the existence of surface charge carriers.