The campus of the Technical University of Dortmund is located near the Dortmund West interchange, where the A45 Sauerland line crosses the B1/A40 Ruhr expressway. The Dortmund-Eichlinghofen exit on the A45 leads to the South Campus, the Dortmund-Dorstfeld and Dortmund-Barop exits on the A40 to the North Campus. The university is signposted at all exits. Navigation systems should find the address Otto-Hahn-Str. 4. There is a large parking lot there.
The "Dortmund Universität" S-Bahn station is located directly on the North Campus. From there, the S-Bahn line S1 runs every 20 or 30 minutes to Dortmund central station and in the opposite direction to Solingen via Bochum, Essen, Duisburg and Düsseldorf. In addition, the university can be reached by bus lines 445, 447 and 462. Timetable information can be found on the homepage of the Rhine-Ruhr transport association, and the DSW21 transport company also offers an interactive route network map. On the pages of the TU Dortmund University you will find additional information on "Contact and Arrival".
Location & approach
The facilities of TU Dortmund University are spread over two campuses, the larger Campus North and the smaller Campus South. Additionally, some areas of the university are located in the adjacent "Technologiepark".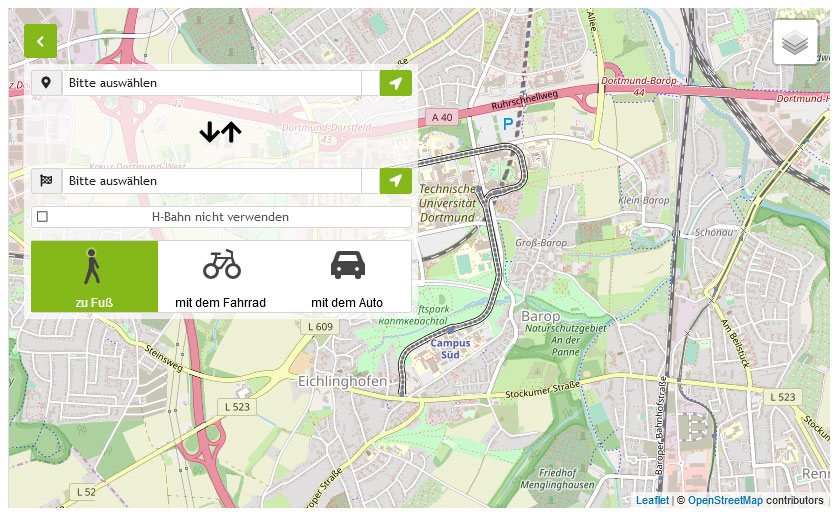 Zum Lageplan
Campus Weather

Open weather forecast