Every year, 20 to 30 doctoral students graduate with the academic degree Dr. rer. nat. from. The doctorate is not a degree in the usual sense, but mainly consists of working on an independent research project in one of the research areas represented at the department. Doctoral students are members of a research group in our department. Anyone interested in carrying out a doctoral project should therefore apply directly to the relevant working group.
Temporary changes
Forms
Registration form for doctoral candidates (in German)
Structured doctoral program of the Department of Physics

In the case of doctoral theses within the framework of research associations or external research institutes, you sometimes have to complete program points that go beyond the requirements of the structured doctoral program of the Department of Physics. It is therefore recommended that you inquire about this with your supervisor before starting a doctoral thesis in a relevant research association or institute.

Informationen zur Abgabe Ihrer Dissertation und den Antrag auf Annahme finden Sie unter dem Punkt: "Zeitweilige Änderungen" des Anmelde- und Abgabeverfahrens (siehe oben)
Doctoral Regulations and Notes
The current doctoral regulations for the Department of Physics in the 2014 version.
Re-registration ban after 3 years: According to §1 (9) of the TU enrollment regulations (in German) enrollment for the purpose of doctoral studies is initially limited to three years. Extensions are made upon submission of a new written confirmation from the student secretariat. The form you need to submit to the student secretariat can be obtained from the Physics Dean's Office on request. To do this, please write an email to Ms. Brück stating the original enrollment date and the name of the first supervisor.
For first-time supervisors at the Department of Physics, there is more information about a doctorate in a moodle room moodle-Raum (in German).
Location & approach
The facilities of TU Dortmund University are spread over two campuses, the larger Campus North and the smaller Campus South. Additionally, some areas of the university are located in the adjacent "Technologiepark".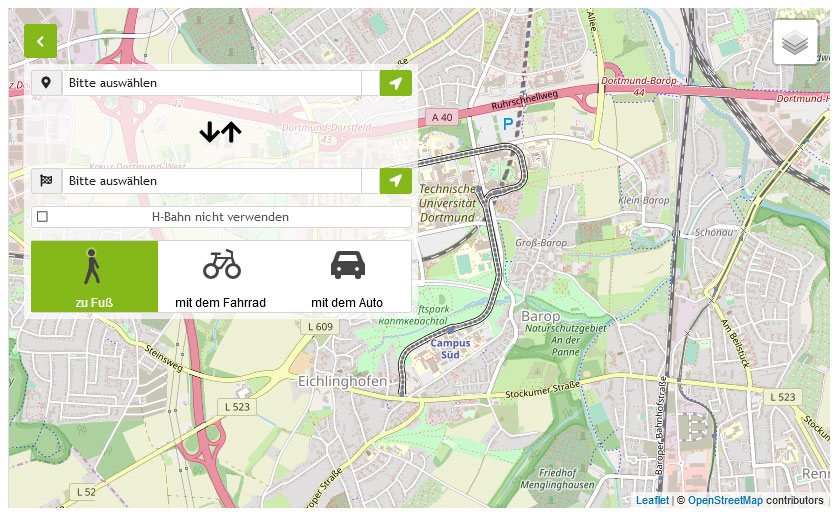 Zum Lageplan