Course Structure Bachelor of Physics
1st Semester
Physics I (integrated course), 15 CP
Higher Mathematics I, 9 CP
Elective subject: "Introduction to Programming" or "General and Inorganic Chemistry for Physics" (Lecture), 9/12 or 6 CP
2nd Semester
Physics II (integrated course), 15 CP
Higher Mathematics II, 9 CP
Elective subject: General and Inorganic Chemistry for Physics" (Laboratory Exercises) , 4 CP
3rd Semester
Physics III (integrated course), 15 CP
Higher Mathematics III, 9 CP
Experimental Exercises I, 6 CP
4th Semester
Physics IV (integrated course), 15 CP
Higher Mathematics IV, 6 CP
Numerical Mathematics for Physics and Engineering, 6 CP
Experimental Exercises II, 6 CP
5th Semester
Introduction to Solid State Physics, 9 CP
Introduction to Particle Physics, 9 CP
Thermodynamics und Statistical Physics, 9 CP
6th Semester
Experimental Excercises for Advanced Students, 6 CP
Bachelor Thesis with Presentation, 10 CP
5th and 6th Semester
Elective area with 14-16 CP, of which at least 8 from physics

We have summarised examples of the design of the elective area for the most common thematic emphases in these study progression plans (in German).
Location & approach
The facilities of TU Dortmund University are spread over two campuses, the larger Campus North and the smaller Campus South. Additionally, some areas of the university are located in the adjacent "Technologiepark".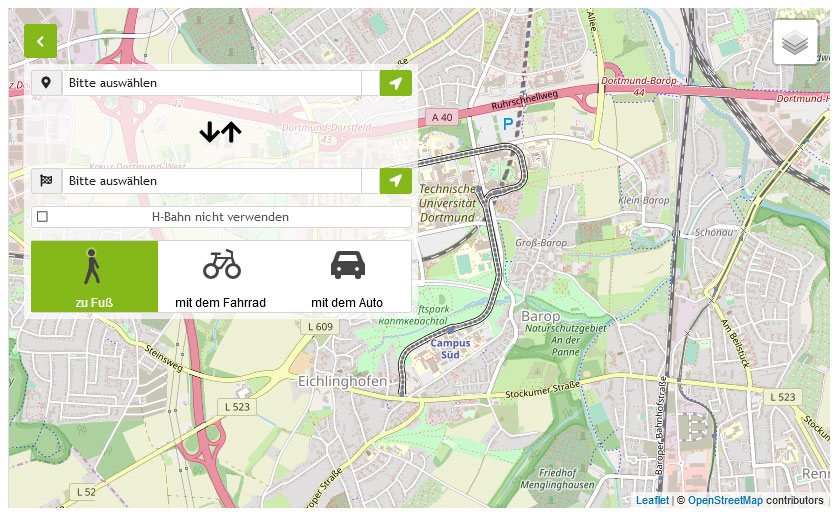 Zum Lageplan
Campus Weather

Open weather forecast