Leben und Strahlung: Fluch oder Segen?
Begin:
End:
Location: Lecture Hall Building II, Lecture Hall 1 and 2

Lecture in the series "Brötchen und Borussia" by Prof. Dr. Armin Lühr (TU Dort­mund)
Radiation has always been fascinating. The very first Nobel Prize in physics was awarded to Röntgen for the discovery of X-radiation, which was still a mystery at the time. And shortly thereafter, Nobel Prizes followed, for example, for Becquerel and Curie on radioactivity.
But where does so much interest in radiation come from? Radiation is actually bad for man and nature - isn't it? One thing is clear; without radiation we would be absolutely in the dark. But that wouldn't be the main problem, because without radiation we wouldn't exist at all.
The truth is that we are all constantly exposed to different types of radiation, which comes from the natural environment, technical devices or medical treatments. It is therefore necessary to understand how different types of radiation affect people and, in particular, the genetic material in our cells - the DNA - in order to use this effect responsibly and for the benefit of mankind. In medicine, for example, X-rays in small doses allow millimeter-precise insights into internal anatomy, the administration of radiopharmaceuticals allows the location of tumor foci in patients, and ion beams at half the speed of light allow the highly precise fight against cancer.
So is everything half as bad after all? Then we should talk again about the next intercontinental flight.
Location & approach
The facilities of TU Dortmund University are spread over two campuses, the larger Campus North and the smaller Campus South. Additionally, some areas of the university are located in the adjacent "Technologiepark".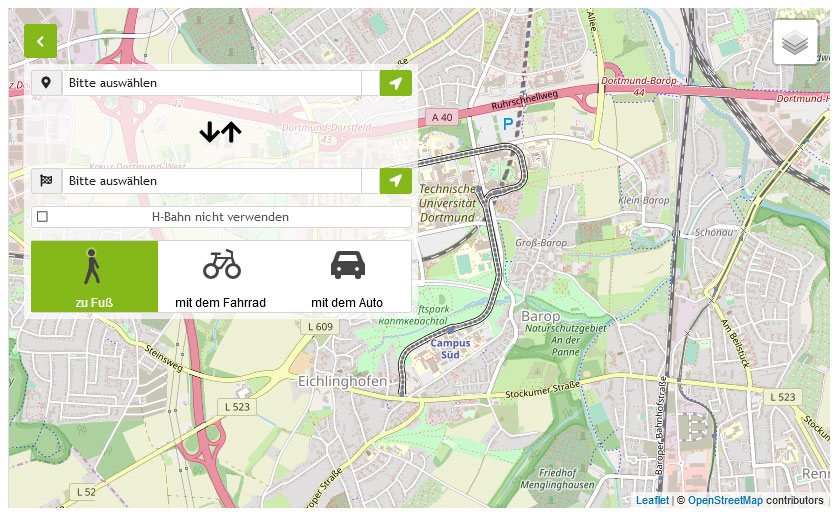 Zum Lageplan