Festkörper-NMR: Über Proteinstrukturen und die Enzymdynamik
Begin:
End:
Location: Livestream from HGII/HS2

Prof. Dr. Rasmus Linser
Festkörper-NMR: Über Proteinstrukturen und die Enzymdynamik
Kernresonanz- (NMR-) Spektroskopie nutzt die individuell unterschiedliche chemische Umgebung, um die verschiedenen Atomkerne, ihre Distanzen zu Nachbarkernen und ihre Bewegung auf diversen Zeitskalen zu identifizieren. Dieses Potpourri an detaillierten Information hat NMR zu einer wichtigen Technologie zur Charakterisierung vor allem von kleinen Molekülen, Proteinen und Materialen werden lassen. Festkörper-NMR insbesondere basiert auf spezifischen technischen Herangehensweisen, um atomar aufgelöst Eigenschaften fester Materie wie z. B. mikrokristalliner Proteine zu charakterisieren. In diesem Vortrag werde ich neben der Erläuterung der zugrundeliegenden Techniken Anwendungen aufzeigen, die Einblick in unterschiedliche biophysikalische Fragestellungen ermöglichen.
Location & approach
The facilities of TU Dortmund University are spread over two campuses, the larger Campus North and the smaller Campus South. Additionally, some areas of the university are located in the adjacent "Technologiepark".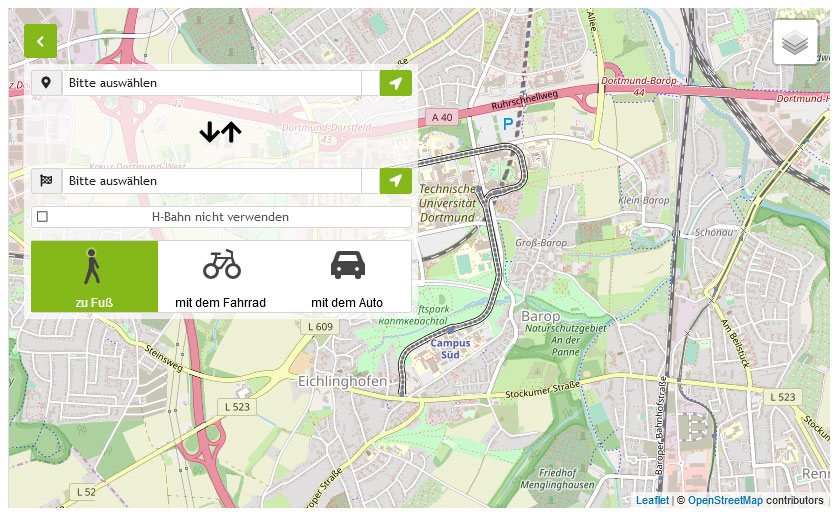 Zum Lageplan
Campus Weather

Open weather forecast