Vom Wassermolekül zur kleinsten Schneeflocke und andere Physik und Chemie auf der Nanoskala
Begin:
End:
Location: to be announced
Lecture in the series "Brötchen und Borussia" by Prof. Dr. Karina Morgenstern (Ruhr-Universität Bochum)
In dem Roman "Der Ringschlüssel" von 1978 erklärt ein Chemiker wie er und seine Kolleginnen davon träumen, Moleküle zu bauen, wie sie von Pinzetten fantasieren mit denen sie einzelne Molekülteile aufnehmen, festhalten und exakt dort in einem Molekül platzieren, wo sie benötigt werden. Mit der Erfindung des Rastertunnelmikroskops in den 1980er Jahren wurden solche 'Pinzetten', die es erlauben einzelne Atome und Moleküle zu beobachten und zu verändern, tatsächlich realisiert. Um solche physikalischen und chemischen Systeme, die tausendmal kleiner sind als der Durchmesser eines Menschenhaares, geht es in der Nanometerphysik und -chemie. Diese sind zum einen Gegenstand aktueller Grundlagenforschung, zum anderen bilden sie die Basis für zukünftige Technologien in der Informationstechnologie. In dem Vortrag wird die Faszination des Bauens mit einzelnen Atomen und Molekülen präsentiert. So wird beispielsweise gezeigt, wie man Buchstaben mit einzelnen Atomen schreiben kann, wo man Einsteins Vorhersagen für die Mikrowelt auch in der Nanowelt bei der Entstehung der kleinsten Schneeflocke wiederfindet und wie man ein einzelnes Molekül als Schalter verwenden kann.

Location & approach
The facilities of TU Dortmund University are spread over two campuses, the larger Campus North and the smaller Campus South. Additionally, some areas of the university are located in the adjacent "Technologiepark".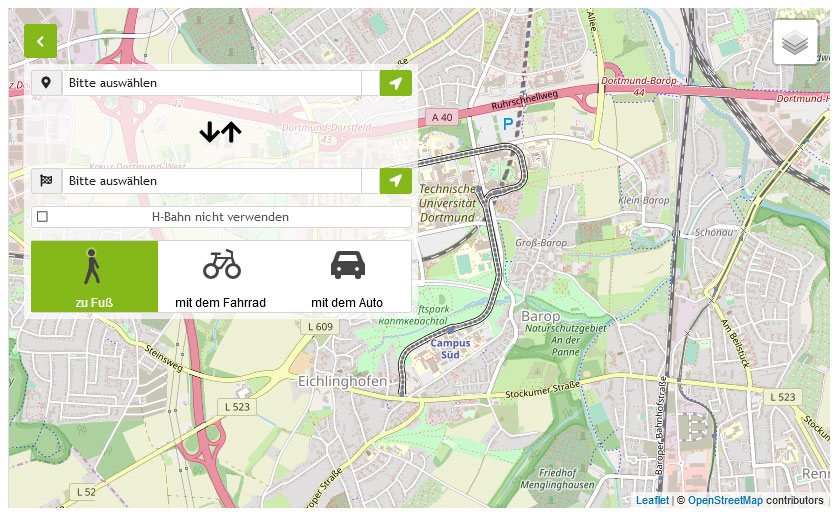 Zum Lageplan