Das neue Einheitensystem - Mehr Präzision geht nicht
Begin:
End:
Location: to be announced
Lecture in the series "Brötchen und Borussia" by Dr. Dr. Jens Simon (Physikalisch-Technische Bundesanstalt)
Wer eine Revolution plant, sollte gut vorbereitet sein. Und manchmalist es dazu nötig, alle Details bis zur letzten Nachkommastelle genau festzulegen. Eben dies haben die Wissenschaftler des Messens, die Metrologen, getan, bevor sie dem Internationalen Einheitensystem (Système international d`unités, kurz: SI) eine völlig neue Grundlage geben konnten. Vorbei nun die Zeiten, in denen etwa ein Metallzylinder mit all seinen Unzulänglichkeiten der Welt sagte, was ein Kilogramm sein soll. An die Stelle dieser "Verkörperung" und anderer idealisierter Vorschriften sind nun Naturkonstanten wie die Lichtgeschwindigkeit, das Planck´sche Wirkungsquantum und die Boltzmannkonstante getreten. Diese Konstanten tauchen in den fundamentalen Gleichungen der Physik auf und bestimmen somit das "Regelwerk" der Natur. Nachdem metrologische Institute auf der ganzen Welt in extrem aufwendigen Experimenten die Werte der wichtigsten Naturkonstanten möglichst exakt gemessen haben, wurden deren Werte nun ein für alle Mal festgelegt und bilden ab jetzt das Fundament allen Messens. Und für die Geschichtsbücher: Diese (friedliche) Revolution fand am 20. Mai 2019 statt. Ihre Auswirkungen könnten Bestand haben für alle Zeiten.

Location & approach
The facilities of TU Dortmund University are spread over two campuses, the larger Campus North and the smaller Campus South. Additionally, some areas of the university are located in the adjacent "Technologiepark".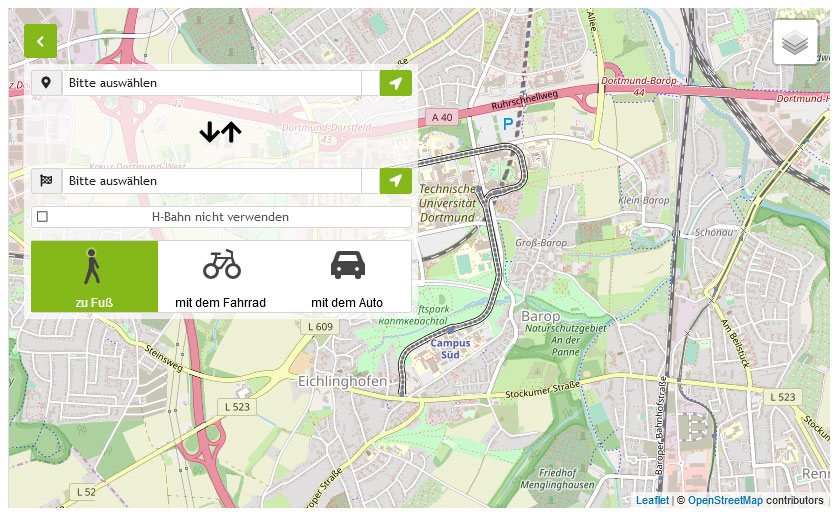 Zum Lageplan